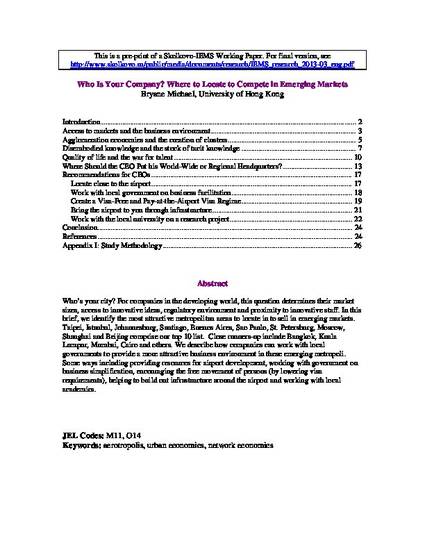 Article
Who Is Your Company? Where to Locate to Compete in Emerging Markets
Skolkovo IEMS Policy Brief (2012)
Abstract
Who's your city? For companies in the developing world, this question determines their market sizes, access to innovative ideas, regulatory environment and proximity to innovative staff. In this brief, we identify the most attractive metropolitan areas to locate in to sell in emerging markets. Taipei, Istanbul, Johannesburg, Santiago, Buenos Aires, Sao Paulo, St. Petersburg, Moscow, Shanghai and Beijing comprise our top 10 list. Close runners-up include Bangkok, Kuala Lumpur, Mumbai, Cairo and others. We describe how companies can work with local governments to provide a more attractive business environment in these emerging metropoli. Some ways including providing resources for airport development, working with government on business simplification, encouraging the free movement of persons (by lowering visa requirements), helping to build out infrastructure around the airport and working with local academics.
Keywords
aerotropolis,
emerging cities,
agglomeration
Citation Information
Bryane Michael. "Who Is Your Company? Where to Locate to Compete in Emerging Markets"
Skolkovo IEMS Policy Brief
(2012)
Available at: http://works.bepress.com/bryane_michael/81/