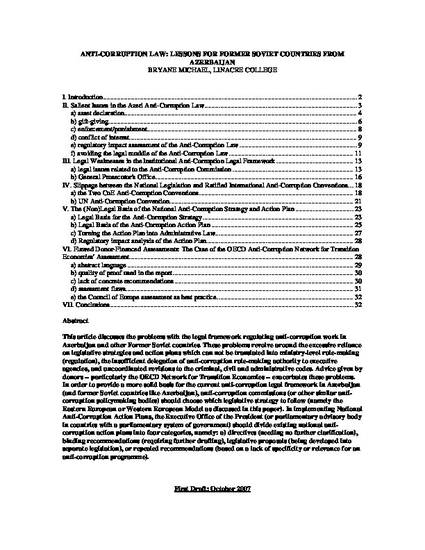 Article
ANTI-CORRUPTION LAW: LESSONS FOR FORMER SOVIET COUNTRIES FROM AZERBAIJAN
Working Paper (2008)
Abstract
This article discusses the problems with the legal framework regulating anti-corruption work in Azerbaijan and other Former Soviet countries. These problems revolve around the excessive reliance on legislative strategies and action plans which can not be translated into ministry-level rule-making (regulation), the insufficient delegation of anti-corruption rule-making authority to executive agencies, and uncoordinated revisions to the criminal, civil and administrative codes. Advice given by donors -- particularly the OECD Network for Transition Economies -- exacerbates these problems. In order to provide a more solid basis for the current anti-corruption legal framework in Azerbaijan (and former Soviet countries like Azerbaijan), anti-corruption commissions (or other similar anti-corruption policymaking bodies) should choose which legislative strategy to follow (namely the Eastern European or Western European Model as discussed in this paper). In implementing National Anti-Corruption Action Plans, the Executive Office of the President (or parliamentary advisory body in countries with a parliamentary system of government) should divide existing national anti-corruption action plans into four categories, namely: a) directives (needing no further clarification), binding recommendations (requiring further drafting), legislative proposals (being developed into separate legislation), or repealed recommendations (based on a lack of specificity or relevance for an anti-corruption programme).
Keywords
anti-corruption,
azerbaijan,
former soviet union
Publication Date
Winter January 1, 2008
Citation Information
Bryane Michael. "ANTI-CORRUPTION LAW: LESSONS FOR FORMER SOVIET COUNTRIES FROM AZERBAIJAN"
Working Paper
(2008)
Available at: http://works.bepress.com/bryane_michael/24/