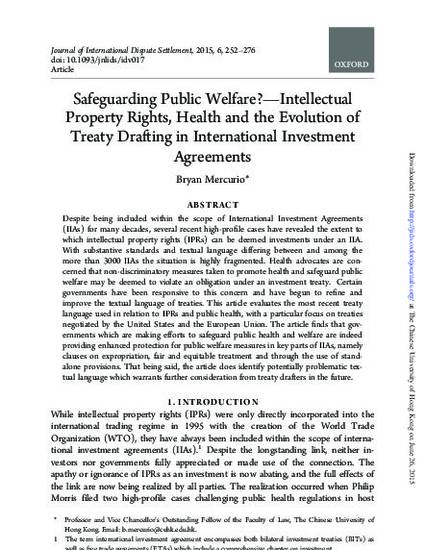 Article
Safeguarding Public Welfare? – Intellectual Property Rights, Health and the Continuing Evolution of Treaty Drafting in International Investment Agreements
Journal of International Dispute Settlement (2015)
Abstract
Despite being included within the scope of International Investment Agreements (IIAs) for many decades, several recent high-profile cases have revealed the extent to which intellectual property rights (IPRs) can be deemed investments under an IIA. With substantive standards and textual language differing between and among the more than 3000 IIAs the situation is highly fragmented. Health advocates are concerned that non-discriminatory measures taken to promote health and safeguard public welfare may be deemed to violate an obligation under an investment treaty. Certain governments have been responsive to this concern and have begun to refine and improve the textual language of treaties. This article evaluates the most recent treaty language used in relation to IPRs and public health, with a particular focus on treaties negotiated by the United States and the European Union. The article finds that governments which are making efforts to safeguard public health and welfare are indeed providing enhanced protection for public welfare measures in key parts of IIAs, namely clauses on expropriation, fair and equitable treatment and through the use of standalone provisions. That being said, the article does identify potentially problematic textual language which warrants further consideration from treaty drafters in the future.
Keywords
investment law,
public welfare measures,
public health,
intellectual property,
tobacco,
dispute settlement
Publication Date
Summer June 1, 2015
Citation Information
Bryan Mercurio. "Safeguarding Public Welfare? – Intellectual Property Rights, Health and the Continuing Evolution of Treaty Drafting in International Investment Agreements"
Journal of International Dispute Settlement
Vol. 6 (2015) p. 252 - 276
Available at: http://works.bepress.com/bryan_mercurio/7/
Creative Commons license
This work is licensed under a Creative Commons CC_BY International License.