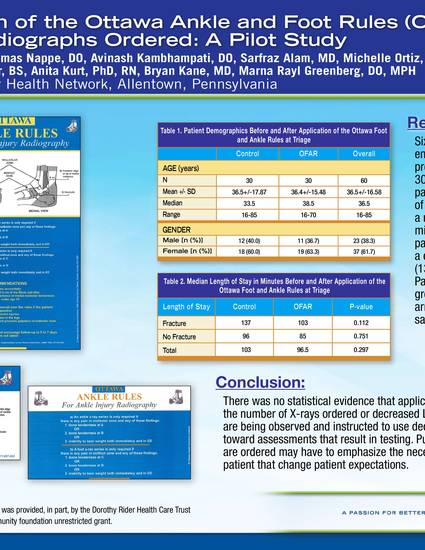 Presentation
The Effect of Triage-Based Application of the Ottawa Ankle and Foot Rules (OAR/OFR) on the Number of Radiographs Ordered: A Pilot Study
Department of Emergency Medicine
Publication/Presentation Date
4-8-2014
Funder
Funding for this project was provided, in part, by the Dorothy Rider Health Care Trust Fund; a nonprofit community foundation unrestricted grant.
Citation Information
Ashurst, J., Digiambattista, S., Nappe, T., Kambhampati, A., Alam, S., Ortiz, M., Delpais, P., Porter, B., Kurt, A., Kane, B., & Greenberg, M. (2014, April 7-9). The effect of triage-based application of the ottawa ankle and foot rules (OAR/OFR) on the number of radiographs ordered: A pilot study. Poster presented at: The PaACEP Scientific Assembly, Harrisburg, PA.