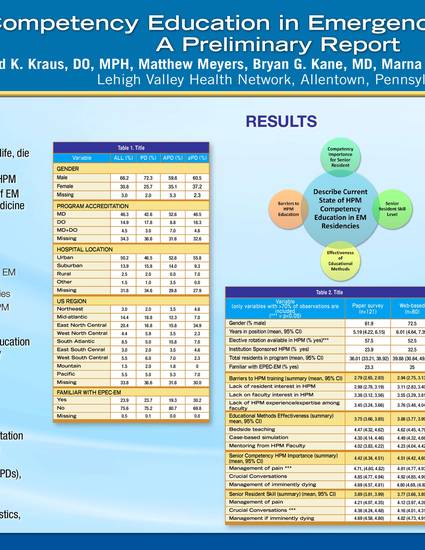 Presentation
Palliative Medicine Competency Education in Emergency Medicine Residency Training: A Preliminary Report
Department of Emergency Medicine
Publication/Presentation Date
4-8-2014
Funder
Dorothy Rider Pool Healthcare Trust Fund; Emergency Medicine Foundation (EMF)/Emergency Medicine Residents' Association (EMRA); Philadelphia College of Osteopathic Medicine, PCOM MEDNet.
Citation Information
Kraus, C., Meyers, M., Kane, B., & Greenberg, M. (2014, April 7-9). Palliative medicine competency education in emergency medicine residency training: A preliminary report. Poster presented at: The Pennsylvania Chapter, American College of Emergency Physicians (PaACEP) Scientific Assembly, Harrisburg, PA.