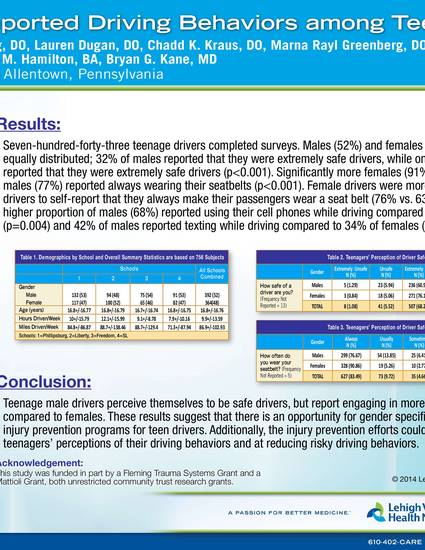 Presentation
Gender Differences in Perceptions and Self-Reported Driving Behaviors Among Teenagers. (Poster)
Department of Emergency Medicine
Publication/Presentation Date
2-22-2014
Funder
This study was funded in part by a Fleming Trauma Systems Grant and a Mattioli Grant, both unrestricted community trust research grants.
Citation Information
Barr, G., Kane, K., Barraco, R., Rayburg, T., Dugan, L., Kraus, C., Greenberg, M., & Kane, B. (2014, February 22). Gender Differences in Perceptions and Self-Reported Driving Behaviors Among Teenagers. Poster presented at: The 2014 Society of Academic Emergency Medicine (SAEM) Mid-Atlantic Regional Meeting, Philadelphia, PA.
Barr, G., Kane, K., Barraco, R., Rayburg, T., Dugan, L., Kraus, C., Greenberg, M., & Kane, B. (2014, February 22). Gender Differences in Perceptions and Self-Reported Driving Behaviors Among Teenagers. Poster presented at: The PaACEP Scientific Assembly, Harrisburg, PA. (April 7-9, 2014)
Barr, G., Kane, K., Barraco, R., Rayburg, T., Dugan, L., Kraus, C., Greenberg, M., & Kane, B. (2014, February 22). Gender Differences in Perceptions and Self-Reported Driving Behaviors Among Teenagers. Poster presented at: The SAEM, Dallas, TX. (May 13-17, 2014)