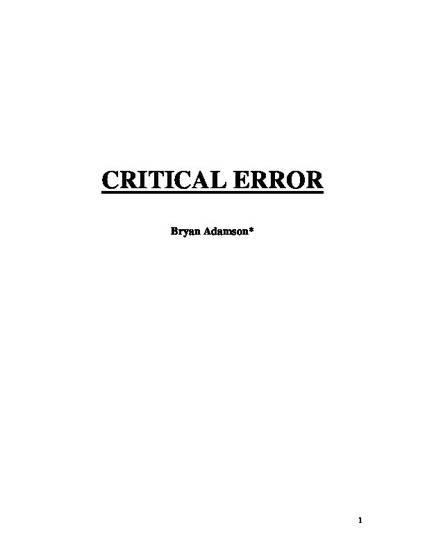 Unpublished Paper
Critical Error
ExpressO (2008)
Abstract
Critical Error raises a novel double standard: while fact-specific trial court findings of actual malice are reviewed under the "independent judgment" standard (a wholesale re-weighting of the trial court record and decision) on appeal, intentional race discrimination findings are reviewed under the far more deferential Federal Rule of Civil Procedure 52 clear error standard. Both legal concepts are arrived at through assessing state-of-mind determinations; both directly trigger constitutional proscriptions. Only actual malice, however, is classified as a constitutional fact, thus taking it out of the more deferential standard of review. The Supreme Court has failed to clarify this important procedural exception to the clear error standard. More than this, the Court has failed to explain why it refuses to apply independent judgment to all constitutional facts. The results of the differential treatment of these two legal concepts are: 1) Rule 52, and the Supreme Court's approach to its constitutional fact exception is another type of denial of structural due process, preventing the legal norming of intentional discrimination jurisprudence; 2) institutional interests of doctrinal coherence and decisional accuracy are minimized in favor of reducing direct costs to the judicial system; 3) whether working inside or outside the intentionalist framework of discrimination, it makes sense to apply the independent appellate judgment standard to intentional discrimination findings, and; 4) the persistent application of Rule 52's clear error standard to findings of intentional discrimination is yet another example of the Supreme Court's narrowed approach to Equal Protection violations.
Keywords
standards of review,
actual malice,
intentional discrimination
Publication Date
August 25, 2008
Citation Information
Bryan L Adamson. "Critical Error"
ExpressO
(2008)
Available at: http://works.bepress.com/bryan_adamson/1/