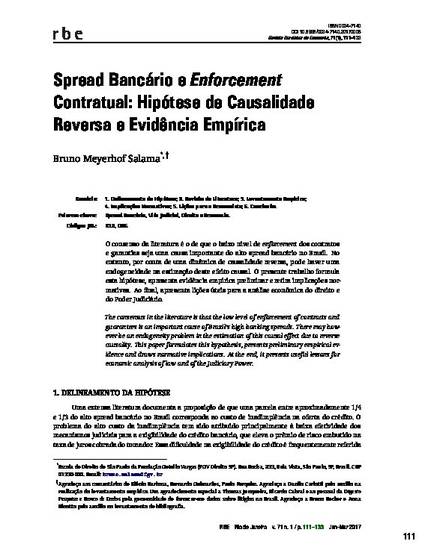 Article
Spread Bancário e Enforcement Contratual: Hipótese de Causalidade Reversa e Evidência Empírica
Revista Brasileira de Economia (2017)
Abstract
O consenso da literatura é o de que o baixo nível de enforcement dos contratos e garantias seja uma causa importante do alto spread bancário no Brasil. No entanto, por conta de uma dinâmica de causalidade reversa, pode haver uma endogeneidade na estimação deste efeito causal. O presente trabalho formula esta hipótese, apresenta evidência empírica preliminar e retira implicações normativas. Ao final, apresenta lições úteis para a análise econômica do direito e do Poder Judiciário.
The consensus in the literature is that the low level of enforcement of contracts and guarantees is an important cause of Brazil's high banking spreads. There may however be an endogeneity problem in the estimation of this causal effect due to reverse causality. This paper formulates this hypothesis, presents preliminary empirical evidence and draws normative implications. At the end, it presents useful lessons for economic analysis of law and of the Judiciary Power.
Keywords
Spread Bancário,
Viés Judicial,
Direito e Economia,
Economia,
Bancos - Brasil,
Taxas de Juros - Brasil,
Poder Judiciário,
Contratos
DOI
10.5935/0034-7140.20170006
Citation Information
SALAMA, Bruno Meyerhof. Spread Bancário e Enforcement Contratual: Hipótese de Causalidade Reversa e Evidência Empírica. Revista Brasileira de Economia, v. 71 n. 1 / p. 111–133 Jan-Mar 2017. Disponível em: https://works.bepress.com/bruno_meyerhof_salama/125/. [Bank Spreads and Contractual Enforcement: Hypothesis of Reverse Causality and Empirical Evidence].