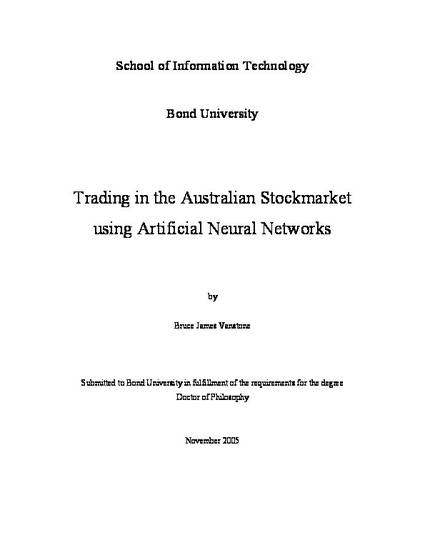 Other
Trading in the Australian stockmarket using artificial neural networks
(2006)
Abstract
This thesis focuses on training and testing neural networks for use within stockmarket trading systems. It creates and follows a well defined methodology for developing and benchmarking trading systems which contain neural networks.
Four neural networks and consequently four trading systems are presented within this thesis. The neural networks are trained using all fundamental or all technical variables, and are trained on different segments of the Australian stockmarket, namely all ordinary shares, and the S&P/ASX200 constituents.
Three of the four trading systems containing neural networks significantly outperform the respective buy-and-hold returns for their segments of the market, demonstrating that neural networks are suitable for inclusion in stockmarket trading systems.
The fourth trading system performs poorly, and a number of reasons are proposed to explain the poor performance. It is significant, however, that the trading system development methodology defined in this thesis clearly exposes the potential failure when testing in-sample, long before the neural network would be used in real trading.
Overall, this thesis concludes that neural networks are suitable for use within trading systems, and that trading systems developed using neural networks can be used to provide economically significant profits.
Keywords
neural networks,
trading systems,
finance
Publication Date
January 1, 2006
Citation Information
Bruce Vanstone. "Trading in the Australian stockmarket using artificial neural networks" (2006)
Available at: http://works.bepress.com/bruce_vanstone/1/