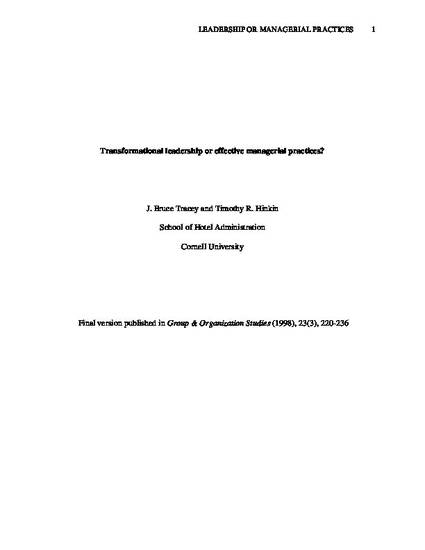 Article
Transformational Leadership or Effective Managerial Practices?
Articles and Chapters
Publication Date
1-1-1998
Abstract
A study was conducted to analyze B.M. Bass and B.J. Avolio's concept of transformational leadership by comparing their Multifactor Leadership Questionnaire (MLQ) with the Managerial Practices Survey (MPS) of G.A. Yukl. The MPS advocated scales related to idealized influence, inspirational motivation, personal considerations and intellectual stimulation. On the other hand, the MPS supported four scales on managerial practices, namely clarifying, supporting, inspiring and team building. Results indicated differences between the constructs determined by the scales. Findings also showed that a composite determinant of transformational leadership supported a variance in leadership effectiveness ratings.
Citation Information
Tracey, J. B., & Hinkin, T. (1998). Transformational leadership or effective managerial practices? [Electronic version]. Retrieved [insert date] from Cornell University, School of Hotel Administration site: http://scholarship.sha.cornell.edu/articles/904