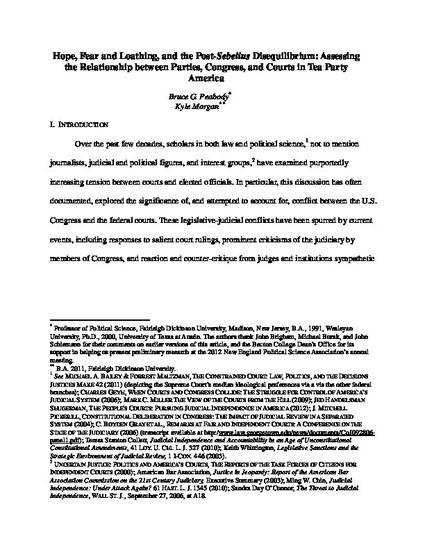 Unpublished Paper
Hope, Fear and Loathing, and the Post-Sebelius Disequilibrium: Assessing the Relationship between Parties, Congress, and Courts in Tea Party America
ExpressO (2012)
Abstract
The article examines recent website commentary by members of the U.S. House on the judiciary, court cases, and judicial power. We consider member websites both before and after the just-completed 2011 Supreme Court term. With this unique data at our disposal, we argue that three features of today's political environment—the rise of the Tea Party, instability in traditional party allegiances to courts, and low voter ratings of the legislature's institutional performance—have combined to create a moment of disequilibrium when it comes to Congress's public assessments of the judiciary. We sketch a picture of institutional, partisan, and ideological engagement with the judiciary that departs from earlier pictures (and explanations) of court-Congress interaction. We end our analysis by considering the impact of the recent health insurance decision (NFIB v. Sebelius), speculating on whether our observed patterns will persist or fade, and by discussing the wider significance of our findings for understanding and assessing legislative-judicial relations.
Keywords
separation of powers,
judicial politics,
tea party,
critiques of courts,
court-Congress relations
Publication Date
August 17, 2012
Citation Information
Bruce Peabody. "Hope, Fear and Loathing, and the Post-Sebelius Disequilibrium: Assessing the Relationship between Parties, Congress, and Courts in Tea Party America"
ExpressO
(2012)
Available at: http://works.bepress.com/bruce_peabody/1/