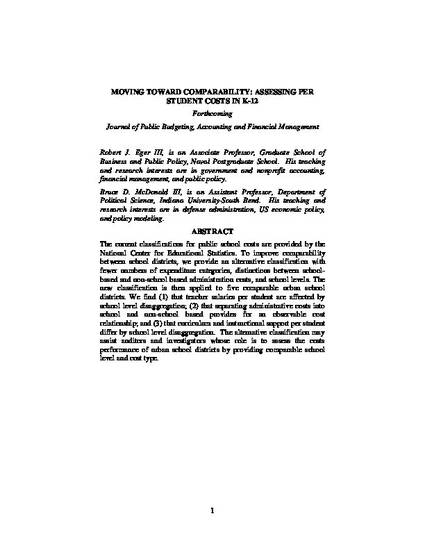 Article
Moving Toward Comparability: Assessing per-Student Costs in K-12
Journal of Public Budgeting, Accounting & Financial Management (2012)
Abstract
The current classifications for public school costs are provided by the National Center for Educational Statistics. To improve comparability between school districts, this paper provides an alternative classification with fewer numbers of expenditure categories and sub-categories. We also introduce distinctions between school-based and non-school based administration costs and between elementary and secondary schools to provide an identification of possible sources of inefficiency. The new classification is then applied to five comparable urban school districts Atlanta, Boston, Mobile, Nashville, and Newark. We find (1) that teacher salaries per student are affected by school level disaggregation; (2) that separating administrative costs into school and non-school based provides for an observable cost relationship; and (3) that curriculum and instructional support per student differ by school level disaggregation. These findings imply that comparative analysis across school districts are directly affected by the classification of expenditures. The alternative classification may assist auditors and investigators whose role is to assess the costs performance of urban school districts by providing comparable cost aggregates based on school level and cost type.
Keywords
Public School Accounting; Education Financing; Cost Accounting; Performance Auditing
Citation Information
Robert J. Eger and Bruce D McDonald. "Moving Toward Comparability: Assessing per-Student Costs in K-12"
Journal of Public Budgeting, Accounting & Financial Management
Vol. 24 Iss. 4 (2012)
Available at: http://works.bepress.com/bruce_mcdonald/7/