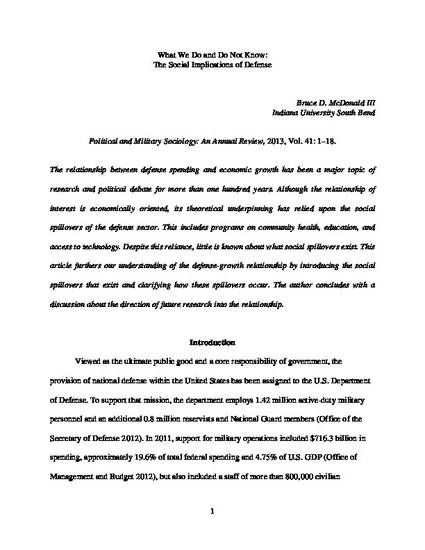 Article
What We Do and Do Not Know: The Social Implications of Defense
Political and Military Sociology: An Annual Review (2013)
Abstract
The relationship between defense spending and economic growth has been a major topic of research and political debate for more than one hundred years. Although the relationship of interest is economically oriented, its theoretical underpinning has relied upon the social spillovers of the defense sector. This includes programs on community health, education, and access to technology. Despite this reliance, little is known about what social spillovers. This paper furthers our understanding of the defense-growth relationship by introducing the social spillovers that exist and clarifying how those spillovers occur. The author concludes with a discussion about the direction of future research into the relationship.
Keywords
defense-growth relationship,
social spillover,
healthcare,
education,
human capital
Citation Information
Bruce D McDonald. "What We Do and Do Not Know: The Social Implications of Defense"
Political and Military Sociology: An Annual Review
Vol. 41 (2013)
Available at: http://works.bepress.com/bruce_mcdonald/10/