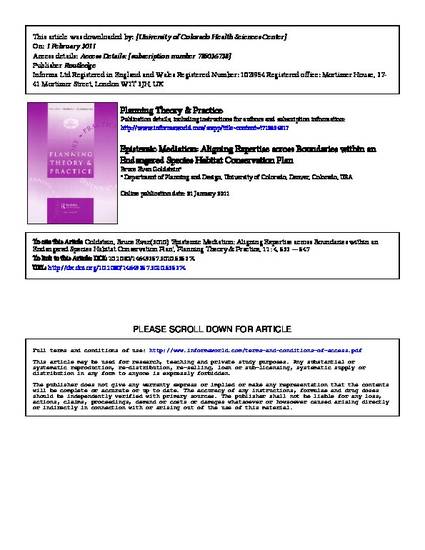 Article
Epistemic Mediation: Aligning Expertise across Boundaries within an Endangered Species Habitat Conservation Plan
Planning Theory & Practice (2010)
Abstract
This paper uses videotaping and discourse analysis to study participants' dialogue and conduct during preparation of the Coachella Valley habitat conservation plan in southern California. The research uses social worlds analysis to reveal that the plan's technical advisors did not find facts through the collective discovery of scientific truths with unitary meanings, but instead constructed facts by aligning professional visions of space, time, and agency. The validity of the resulting plan relied on its ability to be a "boundary object", meaning different things to different groups, while simultaneously laying claim to universality and objectivity. However, its subsequent failure to satisfy an unexpected scientific peer review demonstrates the importance of anticipating downstream reception and use when developing such documents. This case study shows that planners can be epistemic mediators, creating and stabilizing technical knowledge claims that project authority by showing a responsive face to many audiences.
Publication Date
December, 2010
Citation Information
Bruce Evan Goldstein. "Epistemic Mediation: Aligning Expertise across Boundaries within an Endangered Species Habitat Conservation Plan"
Planning Theory & Practice
Vol. 11 Iss. 4 (2010)
Available at: http://works.bepress.com/bruce_goldstein/23/