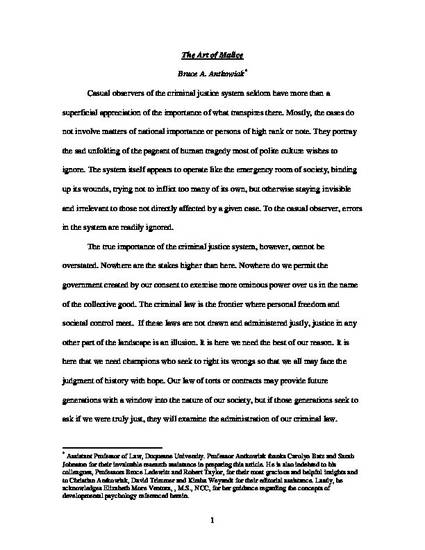 Unpublished Paper
The Art of Malice
ExpressO (2007)
Abstract
Synopsis: The Art of Malice The Art of Malice seeks to synthesize history, poetry, psychology and the law of murder to expose a serious and fundamental error in the criminal justice system. This error occurs in the most serious kind of case (criminal homicide) and at the critical moment of that case when the jury looks to the judge to advise them on the law they must apply. At that moment, they are misled into believing that they may infer the wonderfully complex concept of malice from the mere fact that the killer used a deadly weapon to commit the crime. This instruction betrays the history of this rich concept and the fundamental process of trial by jury that underlies it. I demonstrate this error by reference to Anglo-American legal history and the democratic forces that drive it as explained through the writings of John Rawls. This history and these forces not only call for the elimination of this error but, more broadly, will hopefully provide the reader with a new found trust in the capacity of juries to appreciate the solemnity of their task in finding malice in a given case.
Keywords
Malice,
homicide,
jury instructions
Publication Date
August, 2007
Citation Information
Bruce A Antkowiak. "The Art of Malice"
ExpressO
(2007)
Available at: http://works.bepress.com/bruce_antkowiak/3/