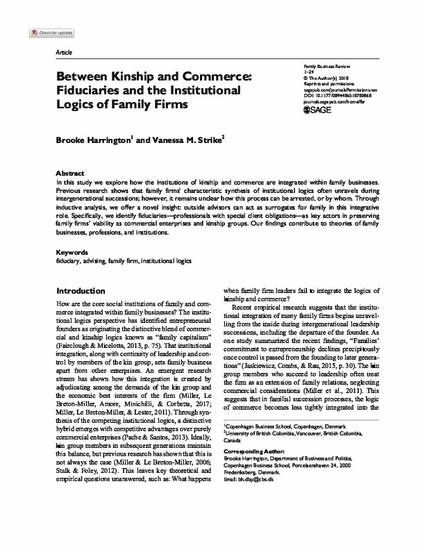 Article
Between Kinship and Commerce: Fiduciaries and the Institutional Logics of Family Firms
Family Business Review (2018)
Abstract
In this study we explore how the institutions of kinship and commerce are integrated within family businesses.
Previous research shows that family firms' characteristic synthesis of institutional logics often unravels during
intergenerational successions; however, it remains unclear how this process can be arrested, or by whom. Through
inductive analysis, we offer a novel insight: outside advisors can act as surrogates for family in this integrative
role. Specifically, we identify fiduciaries—professionals with special client obligations—as key actors in preserving
family firms' viability as commercial enterprises and kinship groups. Our findings contribute to theories of family
businesses, professions, and institutions.
Keywords
fiduciary,
advising,
family firm,
institutional logics
DOI
10.1177/0894486518780868
Citation Information
Elisabeth Brooke Harrington and Vanessa Strike. "Between Kinship and Commerce: Fiduciaries and the Institutional Logics of Family Firms"
Family Business Review
(2018)
Available at: http://works.bepress.com/brooke_harrington/60/