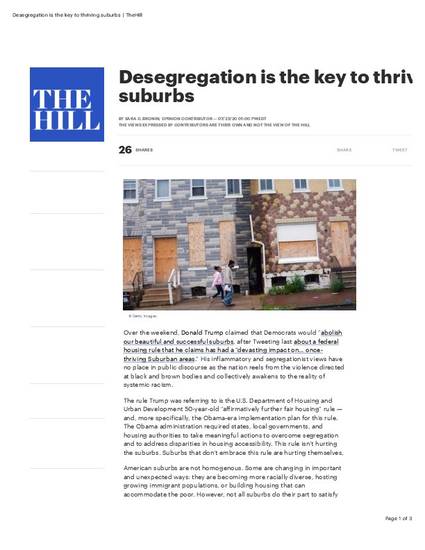 Popular Press
Desegregation is the Key to Thriving Suburbs
The Hill (2020)
Abstract
In the waning days of the administration, Donald Trump tried to unravel the U.S. Department of Housing and Urban Development's 50-year-old "affirmatively further fair housing" rule – and more specifically, the Obama-era implementation plan for this rule.  The Obama administration required states, local governments, and housing authorities to take meaningful actions to overcome segregation and to address disparities in housing accessibility.  This rule isn't hurting the suburbs.  Suburbs that don't embrace this rule are hurting themselves.  
The good news is that states can act, even if the Trump administration continues its efforts to unravel HUD's affirmatively further fair housing rule.  Statewide reforms could change local zoning to enable more housing, diversify housing types, and improve processes to make decisions better and fairer.  States could require local governments to adopt accessory dwelling units, enable "missing middle" housing, and eliminate barriers to multifamily housing in general.  
Keywords
housing,
fair housing,
zoning,
planning,
segregation,
land use,
property,
suburb,
town,
city,
local government,
state government,
desegregate
Publication Date
July 25, 2020
Citation Information
Sara C Bronin. "Desegregation is the Key to Thriving Suburbs"
The Hill
(2020)
Available at: http://works.bepress.com/bronin/43/