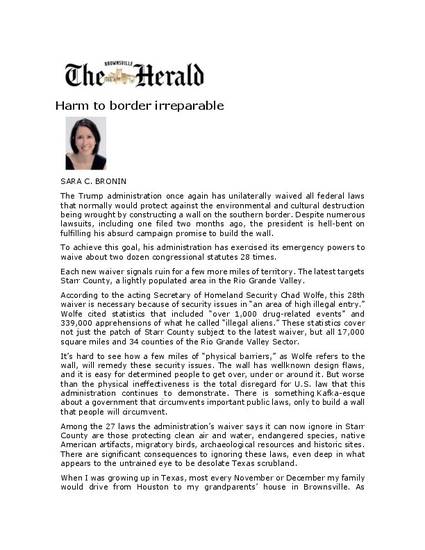 Popular Press
Harm to Border Irreparable
Brownsville Herald (2020)
Abstract
With a November defeat looming, the Trump administration has accelerated efforts
to build the wall on the U.S. southern border. To build it, he has waived over two dozen laws,
including
laws that protect our environment and our culture.
The purpose of legal requirements constraining government action is to ensure the things and places we value are protected from short-sighted politicians. Trump administration waivers will irreversibly destroy biodiversity, culture and heritage.  They could evict families from their homes during a pandemic.  Even in the waning days of this administration, we should be outraged by the damage these waivers are doing each and every time they are used. 
Publication Date
July 15, 2020
Citation Information
Sara C Bronin. "Harm to Border Irreparable"
Brownsville Herald
(2020)
Available at: http://works.bepress.com/bronin/41/