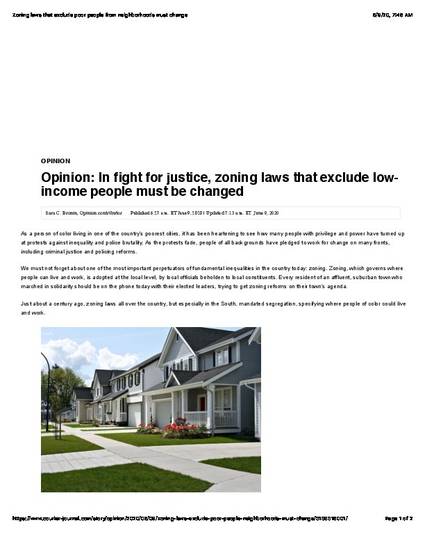 Popular Press
In Fight for Justice, Zoning Laws that Exclude Low-Income People Must be Changed
Courier Journal (2020)
Abstract
Zoning, which governs where people can live and work, is adopted at the local level, by local officials beholden to local constituents.  Every resident of an affluent, suburban town who marched in solidarity with Black Lives Matter supporters should be on the phone today with their elected leaders, trying to get zoning reforms on their town's agenda.  
Zoning perpetuates structural inequities and blocks access to opportunity.  Zoning does this under the rationale of preserving property values and maintaining "orderly" development.  Too many zoning officials today, especially those in suburban and affluent towns, seem to have adopted this point of view.  They have come to define order as exclusion.    
By excluding the poor and people of color, suburbs and affluent towns close off opportunities to people who need them most.  This means opportunity to better schools, safer neighborhoods, and higher-paying jobs.  But most of all, it means an escape from the concentrated poverty that far too often condemns people to poor health, incarceration, and premature death. 
Zoning laws should be included in the list of legislative reforms that will help give people opportunities they need, and will cut inequality off at one of its most insidious sources.  
Keywords
zoning,
exclusionary zoning,
land use,
black lives matter,
blm,
opportunity,
suburb,
suburban,
property values,
Euclid,
buchanan v. warley,
supreme court
Publication Date
June 9, 2020
Citation Information
Sara C Bronin. "In Fight for Justice, Zoning Laws that Exclude Low-Income People Must be Changed"
Courier Journal
(2020)
Available at: http://works.bepress.com/bronin/39/