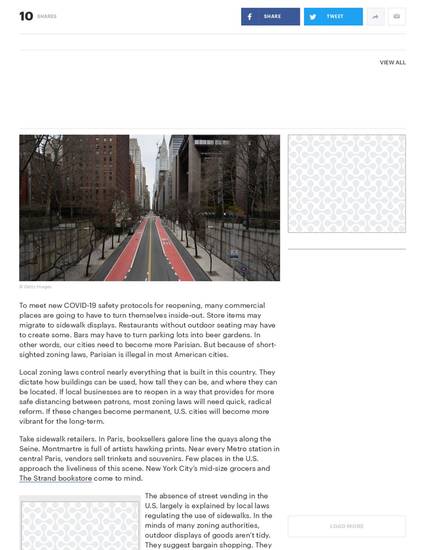 Popular Press
Can City Life Stay More Al Fresco Post Pandemic?
The Hill (2020)
Abstract
To meet new COVID-19 safety protocols for re-opening, many commercial places are going to have to turn themselves inside-out. Store items may migrate to sidewalk displays.  Restaurants without outdoor seating may have to create some.  Bars may have to turn parking lots into beer gardens.  In other words, our cities need to become more Parisian.  But because of short-sighted zoning laws, Parisian is illegal in most American cities.
Local zoning laws control nearly everything that is built in this country.  They dictate how buildings can be used, how tall they can be, and where they can be located.  If local businesses are to re-open in a way that provides for more safe distancing between patrons, most zoning laws will need quick, radical reform.  If these changes become permanent, U.S. cities will become more vibrant for the long-term.  
Keywords
zoning,
land use,
planning,
restaurant,
COVID-19,
coronavirus,
reform
Publication Date
May 5, 2020
Citation Information
Sara C Bronin. "Can City Life Stay More Al Fresco Post Pandemic?"
The Hill
(2020)
Available at: http://works.bepress.com/bronin/38/