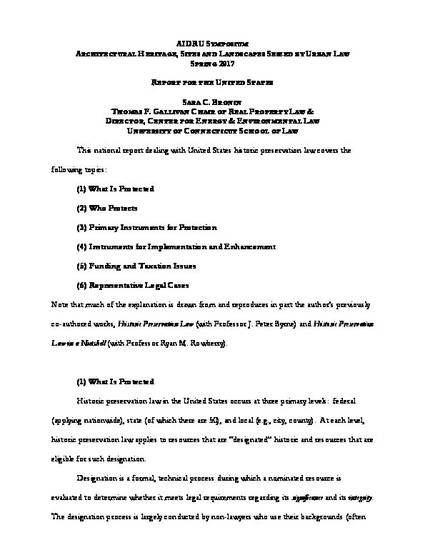 Contribution to Book
Architectural Heritage, Sites, & Landscapes Seized by Urban Law - Report for the United States
Architectural Heritage, Sites, & Landscapes Seized by Urban Law (Patrimoine Architectural, Sites & Paysages Saisis par le Droit de L'Urbanisme) (2019)
Abstract
This national report dealing with United States historic preservation law covers the following topics: 
(1) What Is Protected
(2) Who Protects
(3) Primary Instruments for Protection
(4) Instruments for Implementation and Enhancement
(5) Funding and Taxation Issues
(6) Representative Legal Cases
Note that much of the explanation is drawn from and reproduces in part the author's previously co-authored works, Historic Preservation Law (with Professor J. Peter Byrne) and Historic Preservation Law in a Nutshell (with Professor Ryan M. Rowberry). 
Keywords
preservation,
land use,
historic preservation,
landscape preservation,
urban law,
property law,
land use law
Citation Information
Sara C Bronin. "Architectural Heritage, Sites, & Landscapes Seized by Urban Law - Report for the United States"
Architectural Heritage, Sites, & Landscapes Seized by Urban Law (Patrimoine Architectural, Sites & Paysages Saisis par le Droit de L'Urbanisme)
(2019)
Available at: http://works.bepress.com/bronin/24/