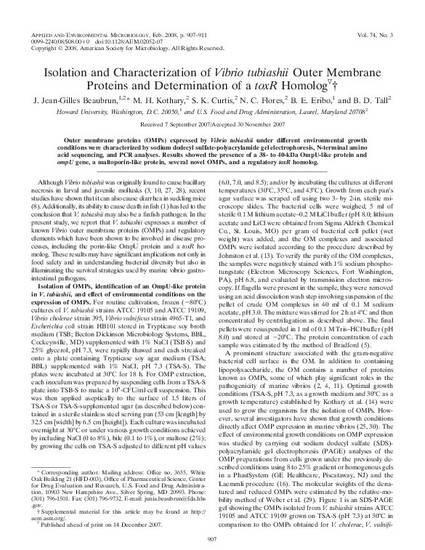 Article
Isolation and Characterization of Vibrio tubiashii Outer Membrane Proteins and Determination of a toxR Homolog
Applied and Environmental Microbiology (2008)
Abstract
Outer membrane proteins (OMPs) expressed by Vibrio tubiashii under different environmental growth conditions were characterized by sodium dodecyl sulfate-polyacrylamide gel electrophoresis, N-terminal amino acid sequencing, and PCR analyses. Results showed the presence of a 38- to 40-kDa OmpU-like protein and ompU gene, a maltoporin-like protein, several novel OMPs, and a regulatory toxR homolog.
Publication Date
February, 2008
Citation Information
Broderick Eribo. "Isolation and Characterization of Vibrio tubiashii Outer Membrane Proteins and Determination of a toxR Homolog"
Applied and Environmental Microbiology
Vol. 74 Iss. 3 (2008) p. 907 - 911
Available at: http://works.bepress.com/broderick-eribo/8/