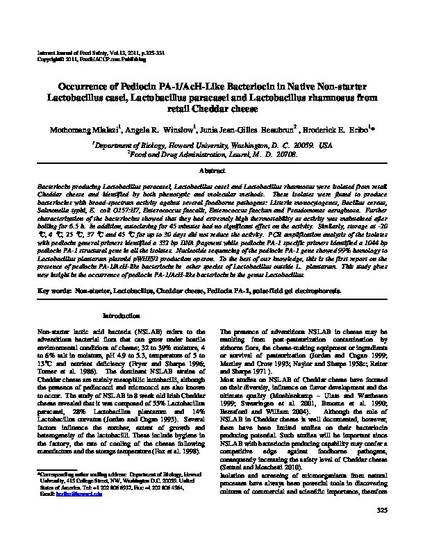 Article
Occurrence of Pediocin PA-1/AcH-Like Bacteriocin in Native Non-starter Lactobacillus casei, Lactobacillus paracasei and Lactobacillus rhamnosus from retail Cheddar cheese
Internet Journal of Food Safety (2011)
Abstract
Bacteriocin producing Lactobacillus paracasei, Lactobacillus casei and Lactobacillus rhamnosus were isolated from retail Cheddar cheese and identified by both phenotypic and molecular methods. These isolates were found to produce bacteriocins with broad-spectrum activity against several foodborne pathogens: Listeria monocytogenes, Bacillus cereus, Salmonella typhi, E. coli O157:H7, Enterococcus faecalis, Enterococcus faecium and Pseudomonas aeruginosa. Further characterization of the bacteriocins showed that they had extremely high thermostability as activity was maintained after boiling for 6.5 h. In addition, autoclaving for 45 minutes had no significant effect on the activity. Similarly, storage at -20 ⁰C, 4 ⁰C, 25 ⁰C, 37 ⁰C and 45 ⁰C for up to 30 days did not reduce the activity. PCR amplification analysis of the isolates with pediocin general primers identified a 332 bp DNA fragment while pediocin PA-1 specific primers identified a 1044 bp pediocin PA-1 structural gene in all the isolates. Nucleotide sequencing of the pediocin PA-1 gene showed 99% homology to Lactobacillus plantarum plasmid pWHE92 production operon. To the best of our knowledge, this is the first report on the presence of pediocin PA-1/AcH-like bacteriocin in other species of Lactobacillus outside L. plantarum. This study gives new insight in the occurrence of pediocin PA-1/AcH-like bacteriocin in the genus Lactobacillus.
Citation Information
Mothomang Mlalazi, Angela Winslow, Junia Jean-Gilles Beaubrun and Broderick Eribo. "Occurrence of Pediocin PA-1/AcH-Like Bacteriocin in Native Non-starter Lactobacillus casei, Lactobacillus paracasei and Lactobacillus rhamnosus from retail Cheddar cheese"
Internet Journal of Food Safety
Vol. 13 (2011) p. 325 - 331
Available at: http://works.bepress.com/broderick-eribo/11/