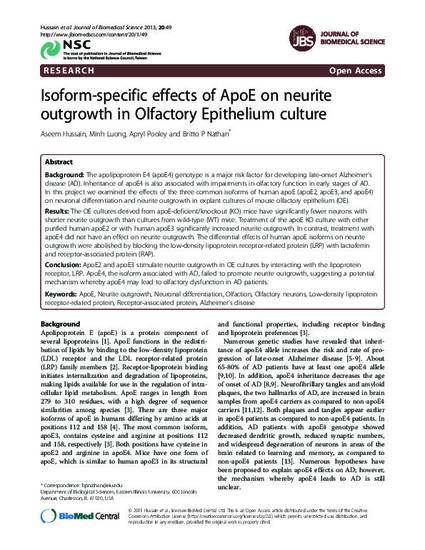 Article
Isoform-specific effects of ApoE on neurite outgrowth in Olfactory Epithelium culture
Journal of Biomedical Science (2013)
Abstract
The apolipoprotein E4 (apoE4) genotype is a major risk factor for developing late-onset Alzheimer's disease (AD). Inheritance of apoE4 is also associated with impairments in olfactory function in early stages of AD. In this project we examined the effects of the three common isoforms of human apoE (apoE2, apoE3, and apoE4) on neuronal differentiation and neurite outgrowth in explant cultures of mouse olfactory epithelium (OE).
Keywords
ApoE,
Neurite outgrowth,
Neuronal differentiation,
Olfaction,
Olfactory neurons,
Low-density lipoprotein receptor-related protein,
Receptor-associated protein,
Alzheimer's disease
Citation Information
Aseem Hussain, Minh Luong, Apryl Pooley and Britto P. Nathan. "Isoform-specific effects of ApoE on neurite outgrowth in Olfactory Epithelium culture"
Journal of Biomedical Science
Vol. 20 Iss. 49 (2013)
Available at: http://works.bepress.com/britto_nathan/1/