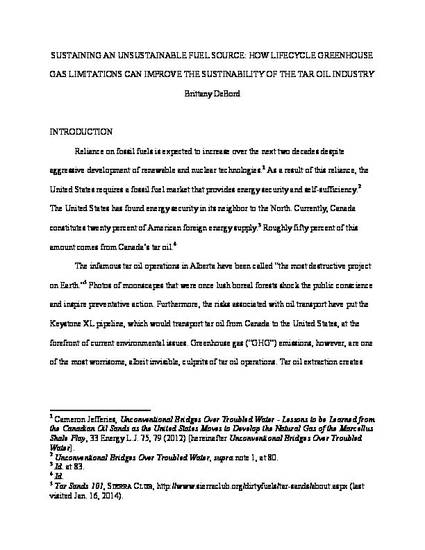 Unpublished Paper
Sustaining an Unsustainable Fuel Source: How Lifecycle Greenhouse Gas Limitations Can Improve the Sustainability of the Tar Oil Industry
ExpressO (2014)
Abstract
The United States seeks to achieve energy security and self-sufficiency by acquiring energy from Canadian tar sands and promoting a domestic tar sands industry. However, support for this industry is inconsistent with the greenhouse gas reduction policies of the Energy Independence and Security Act and the North American Agreement on Environmental Cooperation, since tar oil extraction creates three times more carbon emissions than conventional oil extraction. Legislation limiting lifecycle greenhouse gas emissions has already been implemented through the Renewable Fuel Standard Program in response to concerns that plant-based fuel production leads to greater carbon emissions than intended. Since the lifecycle emissions of tar oil are also particularly problematic, lifecycle greenhouse gas limitations should be applied to this fuel. Legislative history suggests that this type of federal law, which is tailored to a particular fuel source, is more likely to succeed over sweeping climate change legislation such as the Waxman-Markey bill. However, EPA could arguably bypass the need for additional congressional authorization by relying on Section 211 of the Clean Air Act, which gives the Administrator the authority to regulate any fuel that contributes to air pollution that may endanger public welfare. Laws limiting the lifecycle greenhouse gas emissions of tar oil are necessary to reconcile the national goals of limiting greenhouse gas emissions with the pursuit for energy independence.
Keywords
oil,
tar sands,
tar oil,
greenhouse gas,
renewable fuel standard,
energy independence,
energy security
Publication Date
September 20, 2014
Citation Information
Brittany DeBord. "Sustaining an Unsustainable Fuel Source: How Lifecycle Greenhouse Gas Limitations Can Improve the Sustainability of the Tar Oil Industry"
ExpressO
(2014)
Available at: http://works.bepress.com/brittany_debord/1/