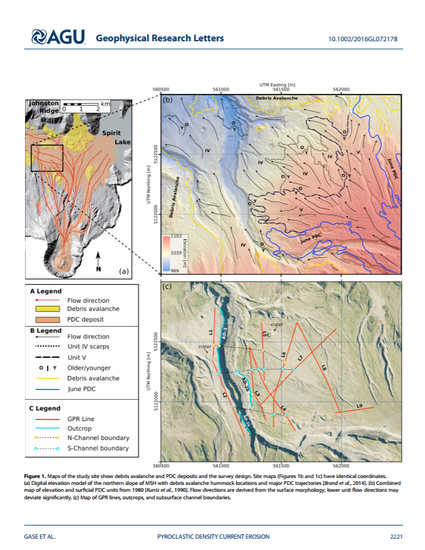 Article
Evidence of Erosional Self-Channelization of Pyroclastic Density Currents Revealed by Ground-Penetrating Radar Imaging at Mount St. Helens, Washington (USA)
Geophysical Research Letters
Publication Date
3-16-2017
Abstract
The causes and effects of erosion are among the least understood aspects of pyroclastic density current (PDC) dynamics. Evidence is especially limited for erosional self-channelization, a process whereby PDCs erode a channel that confines the body of the eroding flow or subsequent flows. We use ground-penetrating radar imaging to trace a large PDC scour and fill from outcrop to its point of inception and discover a second, larger PDC scour and fill. The scours are among the largest PDC erosional features on record, at >200 m wide and at least 500 m long; estimated eroded volumes are on the order of 106 m3. The scours are morphologically similar to incipient channels carved by turbidity currents. Erosion may be promoted by a moderate slope (5–15°), substrate pore pressure retention, and pulses of increased flow energy. These findings are the first direct evidence of erosional self-channelization by PDCs, a phenomenon that may increase flow velocity and runout distance through confinement and substrate erosion.
Citation Information
Andrew C. Gase, Brittany D. Brand and John H. Bradford. "Evidence of Erosional Self-Channelization of Pyroclastic Density Currents Revealed by Ground-Penetrating Radar Imaging at Mount St. Helens, Washington (USA)"
Geophysical Research Letters
(2017)
Available at: http://works.bepress.com/brittany_brand/23/