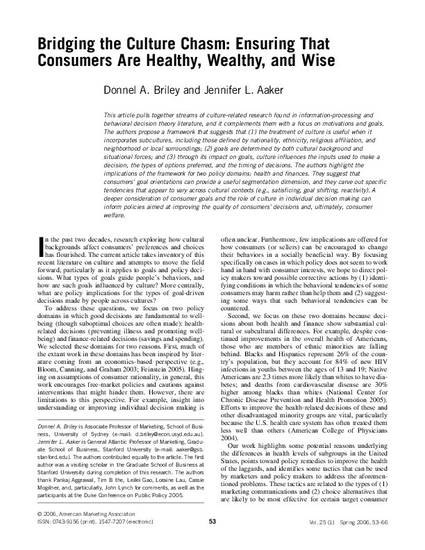 Article
Bridging the Culture Chasm: Ensuring that Consumers are Healthy, Wealthy and Wise
Journal of Public Policy and Marketing (2006)
Abstract
This article pulls together streams of culture-related research found in information-processing and behavioral decision theory literature, and it complements them with a focus on motivations and goals. The authors propose a framework that suggests that (1) the treatment of culture is useful when it incorporates subcultures, including those defined by nationality, ethnicity, religious affiliation, and neighborhood or local surroundings; (2) goals are determined by both cultural background and situational forces; and (3) through its impact on goals, culture influences the inputs used to make a decision, the types of options preferred, and the timing of decisions. The authors highlight the implications of the framework for two policy domains: health and finances. They suggest that consumers' goal orientations can provide a useful segmentation dimension, and they carve out specific tendencies that appear to vary across cultural contexts (e.g., satisficing, goal shifting, reactivity). A deeper consideration of consumer goals and the role of culture in individual decision making can inform policies aimed at improving the quality of consumers' decisions and, ultimately, consumer welfare.
Keywords
public policy,
consumer goals,
health,
consumer spending
Citation Information
Donnel A Briley and Jennifer L. Aaker. "Bridging the Culture Chasm: Ensuring that Consumers are Healthy, Wealthy and Wise"
Journal of Public Policy and Marketing
Vol. 25 Iss. 1 (2006)
Available at: http://works.bepress.com/briley/7/