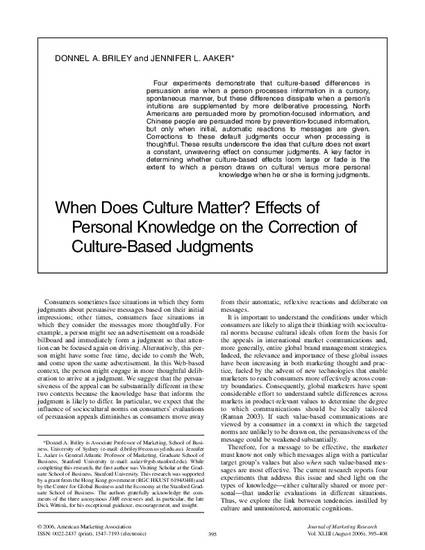 Article
When Does Culture Matter?: Effects of Personal Knowledge on the Correction of Culture-based Judgments
Journal of Marketing Research (2006)
Abstract
Four experiments demonstrate that culture-based differences in persuasion arise when a person processes information in a cursory, spontaneous manner, but these differences dissipate when a person's intuitions are supplemented by more deliberative processing. North Americans are persuaded more by promotion-focused information, and Chinese people are persuaded more by prevention-focused information, but only when initial, automatic reactions to messages are given. Corrections to these default judgments occur when processing is thoughtful. These results underscore the idea that culture does not exert a constant, unwavering effect on consumer judgments. A key factor in determining whether culture-based effects loom large or fade is the extent to which a person draws on cultural versus more personal knowledge when he or she is forming judgments.
Citation Information
Donnel A Briley and Jennifer L. Aaker. "When Does Culture Matter?: Effects of Personal Knowledge on the Correction of Culture-based Judgments"
Journal of Marketing Research
Vol. 43 Iss. 3 (2006)
Available at: http://works.bepress.com/briley/6/