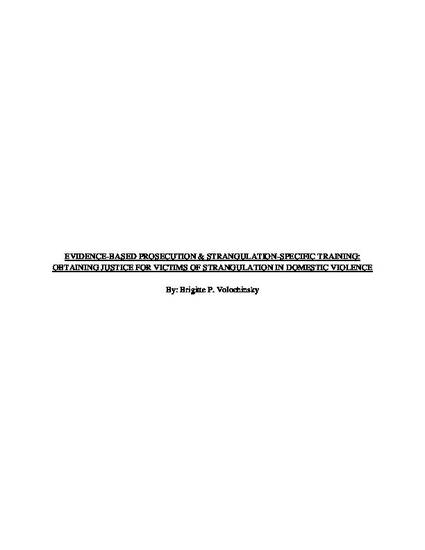 Unpublished Paper
Evidence-Based Prosecution & Strangulation-Specific Training: Obtaining Justice for Victims of Strangulation in Domestic Violence
ExpressO (2012)
Abstract
Strangulation accounts for 10-percent of violent deaths in the United States, with six female victims to every male victim. A common form of abuse in domestic violence, strangulation may result in many harmful health effects and it often indicates either an ongoing pattern of abuse or it foreshadows escalating violence. Yet, strangulation is often minimized by the criminal justice system, including law enforcement officials, emergency room medical personnel, and prosecutors, who equate strangulation with a slap on the face. The phenomenon of minimizing a violent and life-threatening act occurs for two reasons; first, and most importantly, victims of strangulation often do not present with visible injuries and, second, domestic violence cases in general are inherently difficult to prosecute. As this article advocates, in order to obtain justice for victims of strangulation in domestic violence, the criminal justice system must unite and work together in a system which combines strangulation-specific trained investigative skills with evidence-based prosecution.
Keywords
strangulation,
evidence-based prosecution,
domestic violence,
women
Publication Date
February 19, 2012
Citation Information
Brigitte P Volochinsky. "Evidence-Based Prosecution & Strangulation-Specific Training: Obtaining Justice for Victims of Strangulation in Domestic Violence"
ExpressO
(2012)
Available at: http://works.bepress.com/brigitte_volochinsky/1/