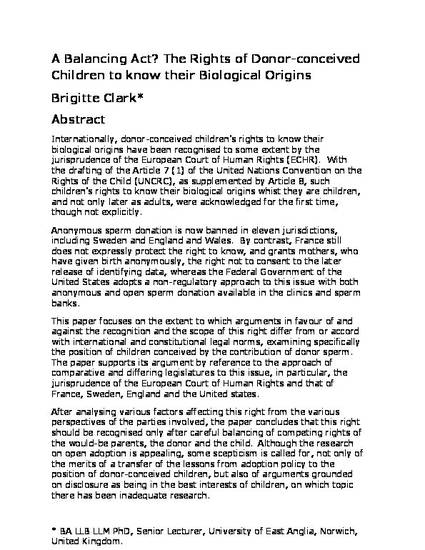 Unpublished Paper
A BALANCING ACT? THE RIGHTS OF DONOR-CONCEIVED CHiLDREN TO KNOW THEIR ORIGINS
ExpressO (2011)
Abstract
Abstract Internationally, donor-conceived children's rights to know their biological origins have been recognised to some extent by the jurisprudence of the European Court of Human Rights (ECHR). With the drafting of the Article 7 (1) of the United Nations Convention on the Rights of the Child (UNCRC), as supplemented by Article 8, such children's rights to know their biological origins whist they are children, and not only later as adults, were acknowledged for the first time, though not explicitly. Anonymous sperm donation is now banned in eleven jurisdictions, including Sweden and England and Wales. By contrast, France still does not expressly protect the right to know, and grants mothers, who have given birth anonymously, the right not to consent to the later release of identifying data, whereas the Federal Government of the United States adopts a non-regulatory approach to this issue with both anonymous and open sperm donation available in the clinics and sperm banks. This paper focuses on the extent to which arguments in favour of and against the recognition and the scope of this right differ from or accord with international and constitutional legal norms, examining specifically the position of children conceived by the contribution of donor sperm. The paper supports its argument by reference to the approach of comparative and differing legislatures to this issue, in particular, the jurisprudence of the European Court of Human Rights and that of France, Sweden, England and the United states. After analysing various factors affecting this right from the various perspectives of the parties involved, the paper concludes that this right should be recognised only after careful balancing of competing rights of the would-be parents, the donor and the child. Although the research on open adoption is appealing, some scepticism is called for, not only of the merits of a transfer of the lessons from adoption policy to the position of donor-conceived children, but also of arguments grounded on disclosure as being in the best interests of children, on which topic there has been inadequate research.
Keywords
rights,
donor-conceived children,
United States,
England and Wales,
Sweden,
France
Publication Date
November 1, 2011
Citation Information
Brigitte J Clark. "A BALANCING ACT? THE RIGHTS OF DONOR-CONCEIVED CHiLDREN TO KNOW THEIR ORIGINS"
ExpressO
(2011)
Available at: http://works.bepress.com/brigitte_clark/6/