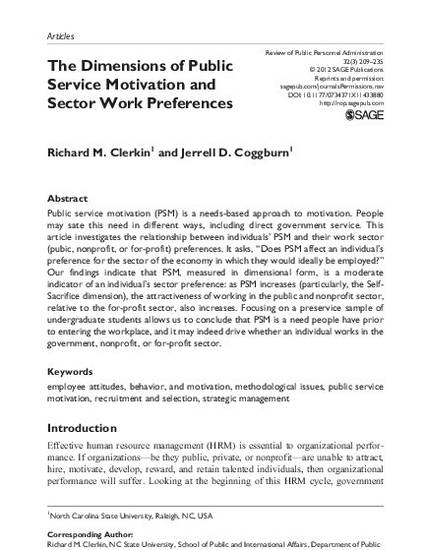 Article
Dimensions of Public Service Motivation
Public Personnel Administration (2012)
Abstract
Public service motivation (PSM) is a needs-based approach to motivation. People may sate this need in different ways, including direct government service. This article investigates the relationship between individuals' PSM and their work sector (pubic, nonprofit, or for-profit) preferences. It asks, "Does PSM affect an individual's preference for the sector of the economy in which they would ideally be employed?" Our findings indicate that PSM, measured in dimensional form, is a moderate indicator of an individual's sector preference: as PSM increases (particularly, the Self- Sacrifice dimension), the attractiveness of working in the public and nonprofit sector, relative to the for-profit sector, also increases. Focusing on a preservice sample of undergraduate students allows us to conclude that PSM is a need people have prior to entering the workplace, and it may indeed drive whether an individual works in the government, nonprofit, or for-profit sector.
Citation Information
Brian Patrick. "Dimensions of Public Service Motivation"
Public Personnel Administration
Vol. 32 Iss. 3 (2012)
Available at: http://works.bepress.com/brianpatrick/1/