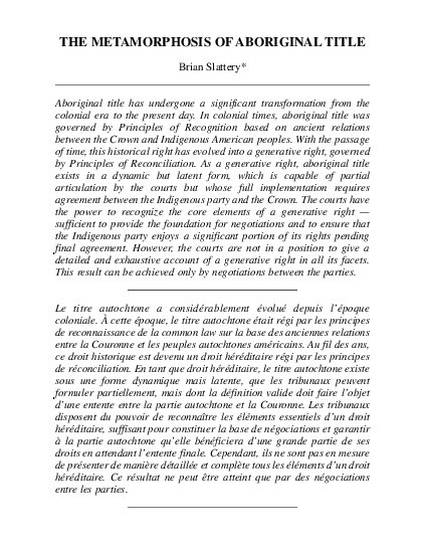 Article
The Metamorphosis of Aboriginal Title
Canadian Bar Review. Volume 85, Number 2 (2006), p. 255-286.
Publication Date
1-1-2006
Keywords
Aboriginal title,
customary right,
right under English common law,
sui generis right
Abstract
Aboriginal title has undergone a significant transformation from the colonial era to the present day. In colonial times, aboriginal title was governed by Principles of Recognition based on ancient relations between the Crown and Indigenous American peoples. With the passage of time, this historical right has evolved into a generative right, governed by Principles of Reconciliation. As a generative right, aboriginal title exists in a dynamic but latent form, which is capable of partial articulation by the courts but whose full implementation requires agreement between the Indigenous party and the Crown. The courts have the power to recognize the core elements of a generative right — sufficient to provide the foundation for negotiations and to ensure that the Indigenous party enjoys a significant portion of its rights pending final agreement. However, the courts are not in a position to give a detailed and exhaustive account of a generative right in all its facets. This result can be achieved only by negotiations between the parties.
French Abstract
Le titre autochtone a considérablement évolué depuis l'époque coloniale. À cette époque, le titre autochtone était régi par les principes de reconnaissance de la common law sur la base des anciennes relations entre la Couronne et les peuples autochtones américains. Au fil des ans, ce droit historique est devenu un droit héréditaire régi par les principes de réconciliation. En tant que droit héréditaire, le titre autochtone existe sous une forme dynamique mais latente, que les tribunaux peuvent formuler partiellement, mais dont la définition valide doit faire l'objet d'une entente entre la partie autochtone et la Couronne. Les tribunaux disposent du pouvoir de reconnaître les éléments essentiels d'un droit héréditaire, suffisant pour constituer la base de négociations et garantir à la partie autochtone qu'elle bénéficiera d'une grande partie de ses droits en attendant l'entente finale. Cependant, ils ne sont pas en mesure de présenter de manière détaillée et complète tous les éléments d'un droit héréditaire. Ce résultat ne peut être atteint que par des négociations entre les parties.
Citation Information
Slattery, Brian. "The Metamorphosis of Aboriginal Title."
Canadian Bar Review
85.2 (2006): 255-286.