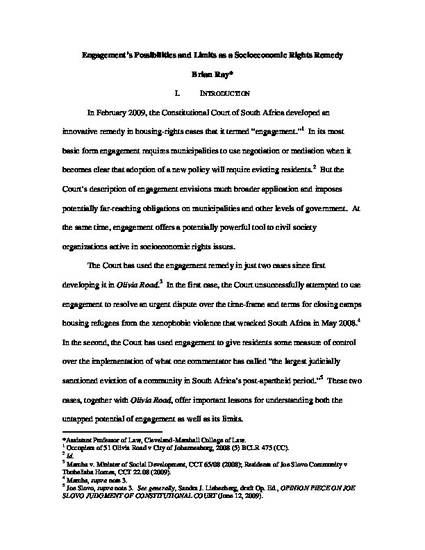 Unpublished Paper
Prepublication Version. Engagement's Possibilities and Limits as a Socioeconomic Rights Remedy
ExpressO (2009)
Abstract
In February 2009, the Constitutional Court of South Africa developed an innovative remedy for enforcing socio-economic rights that it termed "engagement." In its most basic form engagement requires government authorities to use negotiation or mediation when it becomes clear that adoption of a new policy will require evicting residents. But the Court's description of engagement envisions much broader application and imposes potentially far-reaching obligations on municipalities and other levels of government. At the same time, engagement offers a potentially powerful tool to civil society organizations active in socioeconomic rights issues. This Essay first analyzes the Court's three engagement decisions and then divides engagement into two different categories—litigation engagement and political engagement—and offers suggestions for transforming the process into a more effective remedy in each category. Drawing on the empirical work of Charles Epp, the Essay argues that political engagement, if structured correctly, offers the greatest potential for turning engagement into an effective mechanism for enforcing socioeconomic rights. Realizing that potential will require a sustained commitment by civil society organizations active on socioeconomic rights issues and a shift from using engagement as a litigation tactic into a tool for political advocacy.
Keywords
socioeconomic rights,
social welfare rights,
socio-economic rights,
judicial review,
constitutional courts
Citation Information
Brian Ray. "Prepublication Version. Engagement's Possibilities and Limits as a Socioeconomic Rights Remedy"
ExpressO
(2009)
Available at: http://works.bepress.com/brian_ray/3/