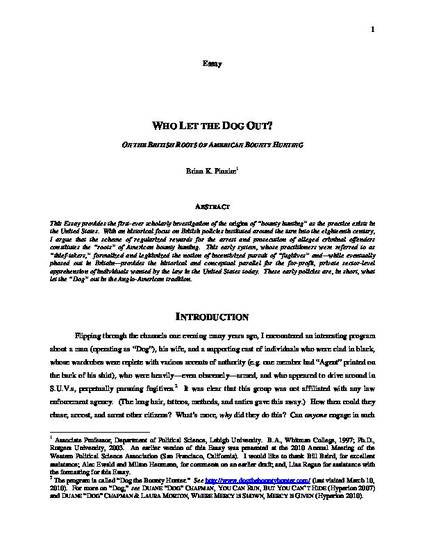 Unpublished Paper
Who Let the Dog Out?: On the British Roots of American Bounty Hunting
ExpressO (2010)
Abstract
This Essay provides the first-ever scholarly investigation of the origins of "bounty hunting" as the practice exists in the United States. With an historical focus on British policies instituted around the turn into the eighteenth century, I argue that the scheme of regularized rewards for the arrest and prosecution of alleged criminal offenders constitutes the "roots" of American bounty hunting. This early system, whose practitioners were referred to as "thief-takers," formalized and legitimized the notion of incentivized pursuit of "fugitives" and—while eventually phased out in Britain—provides the historical and conceptual parallel for the for-profit, private sector-level apprehension of individuals wanted by the law in the United States today. These early policies are, in short, what let the "Dog" out in the Anglo-American tradition.
Keywords
bounty hunting,
bail,
bondsmen,
fugitive apprehension
Publication Date
June 29, 2010
Citation Information
Brian K. Pinaire. "Who Let the Dog Out?: On the British Roots of American Bounty Hunting"
ExpressO
(2010)
Available at: http://works.bepress.com/brian_pinaire/3/