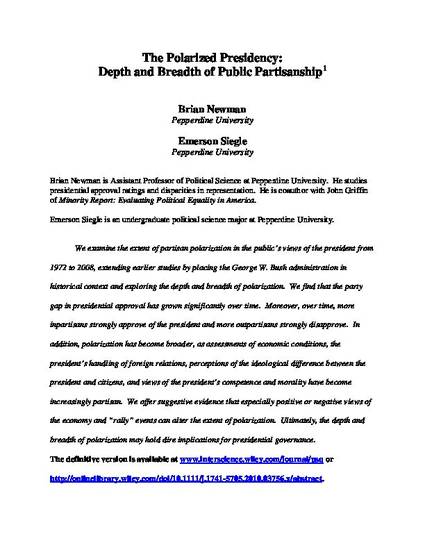 Article
The Polarized Presidency: Depth and Breadth of Public Partisanship
Presidential Studies Quarterly (2010)
Abstract
This essay examines the extent of partisan polarization in the public's views of the president from 1972 to 2008, extending earlier studies by placing the George W. Bush administration in historical context and exploring the depth and breadth of polarization. The authors find that the party gap in presidential approval has grown significantly over time. Moreover, more inpartisans strongly approve of the president and more outpartisans strongly disapprove. In addition, polarization has become broader as assessments of economic conditions, the president's handling of foreign relations, perceptions of the ideological difference between the president and citizens, and views of the president's competence and morality have become increasingly partisan. Suggestive evidence is offered that especially positive or negative views of the economy and "rally" events can alter the extent of polarization. Ultimately, the depth and breadth of polarization may hold dire implications for presidential governance.
Keywords
Public approval,
presidential approval ratings,
partisan polarization,
economy,
rally events
Citation Information
Brian Newman and Emerson Siegle. "The Polarized Presidency: Depth and Breadth of Public Partisanship"
Presidential Studies Quarterly
Vol. 40 Iss. 2 (2010)
Available at: http://works.bepress.com/brian_newman/9/