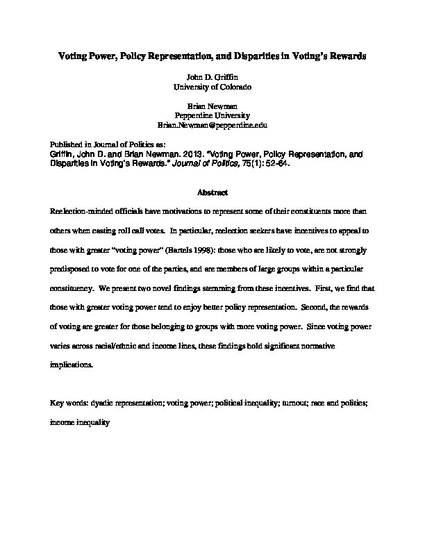 Article
Voting Power, Policy Representation, and Disparities in Voting's Rewards
Journal of Politics (2013)
Abstract
Reelection-minded officials have motivations to represent some of their constituents more than others when casting roll-call votes. In particular, reelection seekers have incentives to appeal to those with greater "voting power" (Bartels 1998): those who are likely to vote, are not strongly predisposed to vote for one of the parties, and are members of large groups within a particular constituency. We present two novel findings stemming from these incentives. First, we find that those with greater voting power tend to enjoy better policy representation. Second, the rewards of voting are greater for those belonging to groups with more voting power. Since voting power varies across racial/ethnic and income lines, these findings hold significant normative implications. Authors were invited to write a blog post on London School of Economics website USAPP. Posted Sept. 18, 2013: http://blogs.lse.ac.uk/usappblog/2013/09/18/more-from-voting-whites-high-income/.
Keywords
Public officers,
consituent power,
incentive (psychology),
representative government,
policy sciences,
voting
Publication Date
January, 2013
Citation Information
Brian Newman and John D. Griffin. "Voting Power, Policy Representation, and Disparities in Voting's Rewards"
Journal of Politics
Vol. 75 Iss. 1 (2013)
Available at: http://works.bepress.com/brian_newman/5/