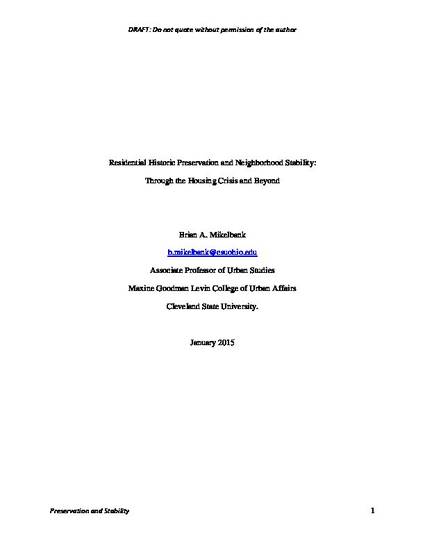 Unpublished Paper
Residential Historic Preservation and Neighborhood Stability: Through the Housing Crisis and Beyond
NA (2015)
Abstract
Problem: Given Cleveland's prominence in the foreclosure crisis, discussions surrounding demolition, rehabilitation, and stabilization are particularly active and passionate in the region. It is surprising, though, that the role of historic preservation isn't more thoroughly explored, both in Cleveland, and beyond. To fill a near void of empirical research, this paper offers a systematic investigation of the relationship between residential historic preservation and foreclosure.
Research Strategy: This research brings together parcel-level foreclosure filing data and parcel-level program data of the Heritage Home Program of The Cleveland Restoration Society. This program has made over 1000 loans, channeling preservation investments of over $36 million into the residential neighborhoods of Cleveland and its Cuyahoga County suburbs. The research focus is on the degree to which the fate of these preservation properties differs from the average housing outcomes of their surrounding neighborhoods and communities.
Findings: Using a conservative estimate, preservation properties foreclosed at roughly 1/6 the rate of comparable non-preservation residential properties. Proportionally, preservation properties foreclosed less than those in their surrounding neighborhoods, communities and region. The foreclosure rate (preservation and overall) wasn't always lower in areas of concentration, indicating that preservation activity was not occurring only in the region's prime housing markets.
Takeaway for Practice: Debates relating to the optimal use of scarce housing-recovery resources, often dominated by demolition and sometimes rehabilitation, rarely include historic preservation. Yet in Cleveland, preservation activity was shown to be a stabilizing force during the crisis. Why, then, shouldn't it be more readily considered as a part of the post-crisis solution?
Keywords
preservation,
rehabilitation,
stabilization,
foreclosure,
housing
Citation Information
Brian Mikelbank. "Residential Historic Preservation and Neighborhood Stability: Through the Housing Crisis and Beyond"
NA
(2015)
Available at: http://works.bepress.com/brian_mikelbank/31/