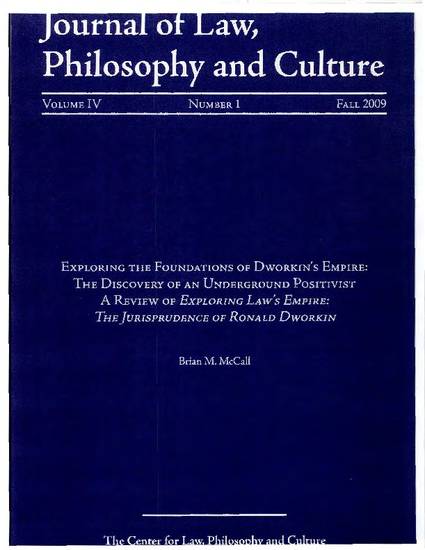 Article
Exploring the Foundations of Dworkin's Empire: The Discovery of an Underground Positivist
Journal of Law, Philosophy and Culture (2009)
Abstract
This review essay examines the jurisprudence of Ronald Dworkin as presented in the anthology: Exploring Law's Empire: The Jurisprudence of Ronald Dworkin, edited by Scott Hershovitz. Notwithstanding the influence Dworkin's jurisprudence has had on the reconsideration of moral reasoning within legal reasoning, the essay concludes that at its foundation Dworkin's jurisprudence is based upon Legal Positivist principles. The essay first summarizes the jurisprudence of Dworkin and then contrasts his jurisprudence with traditional Natural Law Legal Theory and finally exposes the Positivist foundations of Dworkin's Legal Empire.
Keywords
Natural Law,
Dworkin,
Jurisprudence,
Moral Reasoning,
Positivism
Citation Information
Brian M McCall. "Exploring the Foundations of Dworkin's Empire: The Discovery of an Underground Positivist"
Journal of Law, Philosophy and Culture
Vol. 4 Iss. 1 (2009)
Available at: http://works.bepress.com/brian_mccall/14/