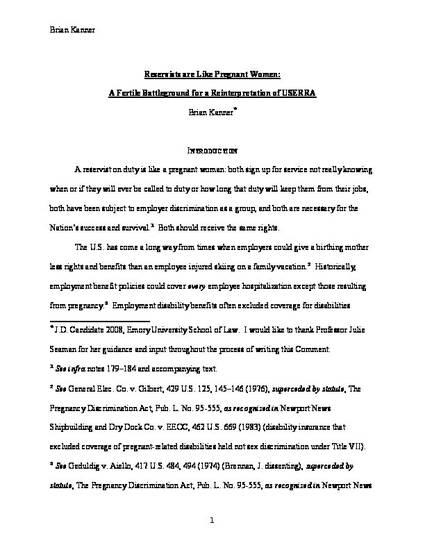 Unpublished Paper
Reservists are Like Pregnant Women: A Fertile Battleground for a Reinterpretation of USERRA
ExpressO (2007)
Abstract
The article examines the Department of Labor's ("DOL") newly issued regulations of the Uniformed Services Employment and Reemployment Act of 1994—the act that guarantees workplace non-discrimination and reemployment rights to our military reservists. Under the regulations, reservists are given non-seniority rights only if the employer offers them to "similarly situated" non-military employees on a "comparable" non-military leave. Making comparisons to pregnant women subject to policies formed for a male-centric workplace, I argue that the assessment for determining a reservist's non-seniority rights is inherently disingenuous: what employee is truly similarly situated to a reservist called to duty and what non-military leave is truly comparable to the unpredictable military leave? My article argues that when forced to find some group that is similarly situated to reservists on a comparable leave, pregnant women on leave are the most similarly situated, as a group, and their leave is most comparable. Therefore, reemployed reservists should receive all rights and benefits that an employer offers to pregnant women. The article maintains that this comparison, which would expand reservists' reemployment rights at many workplaces, is sound based on public policy. I argue that we must expand our reservists' reemployment rights if we are to overcome years of recruitment difficulties and support a military policy that requires us to call on our reservists in unprecedented numbers. Nevertheless, I argue that the DOL regulations have wrongly restricted reservists rights based on the plain meaning of USERRA. USERRA gives reservists all rights and benefits the reservist would have attained had he or she remained continuously employed; determining reservists' rights based on a comparison to non-military employees defies USERRA's language. This article remains timely as surges of reservists return home from duty seeking reemployment. The scant USERRA case law is in no way an indication that USERRA is functioning flawlessly—there were over 16,000 complaints under USERRA in two years.
Keywords
Uniformed Services Employment and Reemployment Act of 1994,
USERRA,
Military Reservists
Publication Date
September, 2007
Citation Information
Brian Kanner. "Reservists are Like Pregnant Women: A Fertile Battleground for a Reinterpretation of USERRA"
ExpressO
(2007)
Available at: http://works.bepress.com/brian_kanner/1/