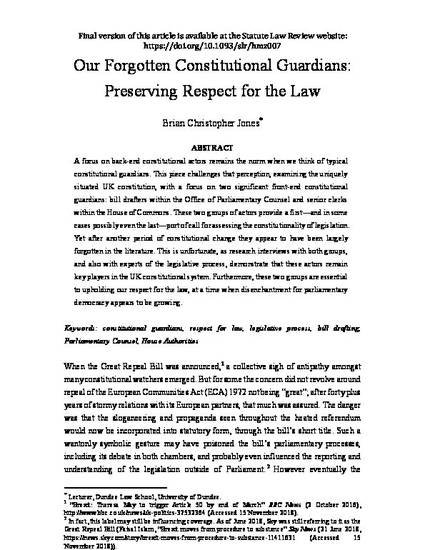 Article
Our Forgotten Constitutional Guardians: Preserving Respect for the Law
Statute Law Review (2019)
Abstract
A focus on back-end constitutional actors remains the norm when we think of typical constitutional guardians. This piece challenges that perception, examining the uniquely situated UK constitution, with a focus on two significant front-end constitutional guardians: bill drafters within the Office of Parliamentary Counsel and senior clerks within the House of Commons. These two groups of actors provide a first—and in some cases possibly even the last—port of call for assessing the constitutionality of legislation. Yet after another period of constitutional change they appear to have been largely forgotten in the literature. This is unfortunate, as research interviews with both groups, and also with experts of the legislative process, demonstrate that these actors remain key players in the UK constitutional system. Furthermore, these two groups are essential to upholding our respect for the law, at a time when disenchantment for parliamentary democracy appears to be growing.
Keywords
constitutional guardians,
respect for law,
legislative process,
bill drafting,
Parliamentary Counsel,
House Authorities
Publication Date
April 8, 2019
DOI
https://doi.org/10.1093/slr/hmz007
Citation Information
Brian Christopher Jones. "Our Forgotten Constitutional Guardians: Preserving Respect for the Law"
Statute Law Review
(2019) ISSN: 01443593
Available at: http://works.bepress.com/brian_jones/57/