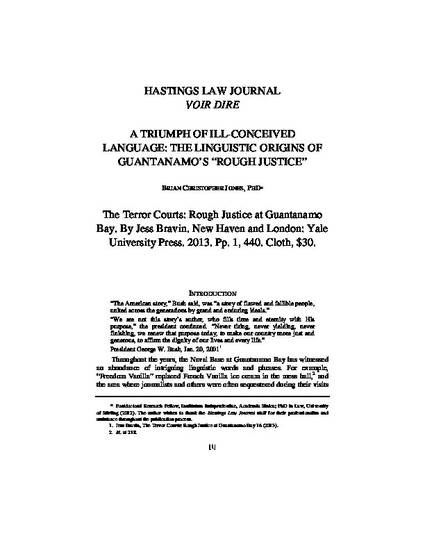 Article
A Triumph of Ill Conceived Language: The Linguistic Origins of Guantamo's "Rough Justice"
Hastings Law Journal Voir Dire (2013)
Abstract
Throughout the years, the Naval Base at Guantanamo Bay has witnessed an abundance of intriguing linguistic words and phrases. For example, "Freedom Vanilla" replaced French Vanilla ice cream in the mess hall, and the area where journalists and others were often sequestered during their visits to the base was re-named "Camp Justice." The list goes on. However, the language that has had the most significant impact throughout the years has been the words and phrases used in the administration of justice regarding the detainees being held on terrorism charges.Wall St. Journal Supreme Court reporter Jess Bravin's book, The Terror Courts: Rough Justice at Guantanamo Bay, thoroughly chronicles how the use of military commissions came about for the first time since the Second World War, and pointedly demonstrates the abundance of problems they faced once established. In addition to telling the story of Marine Corps lieutenant colonel Stuart Couch, an earnest military prosecutor who later becomes exhaustively disenchanted with the commissions, the book chronicles the new linguistic frontiers in the American legal community. In particular, the disturbing treatment of detainees and the hasty establishment of the commissions significantly troubled the process, leading to numerous problems that the commissions still face today, more than a decade after their establishment.
Keywords
Guantanamo Bay,
Jess Bravin,
terrorism,
courts,
justice,
military commissions,
due process,
classified,
custodial interrogation
Publication Date
Fall 2013
Citation Information
Brian Christopher Jones. "A Triumph of Ill Conceived Language: The Linguistic Origins of Guantamo's "Rough Justice""
Hastings Law Journal Voir Dire
(2013)
Available at: http://works.bepress.com/brian_jones/14/