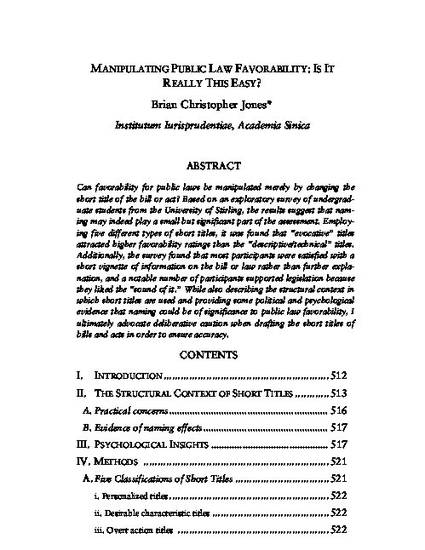 Article
MANIPULATING PUBLIC LAW FAVORABILITY: IS IT REALLY THIS EASY?
British Journal of American Legal Studies (2013)
Abstract
Can favorability for public laws be manipulated merely by changing the short title of the bill or act? Based on an exploratory survey of undergraduate students from the University of Stirling, the results suggest that naming may indeed play a small but significant part of the assessment. Employing five different types of short titles, it was found that "evocative" titles attracted higher favorability ratings than the "descriptive/ technical" titles. Additionally, the survey found that most participants were satisfied with a short vignette of information on the bill or law rather than further explanation, and a notable number of participants supported legislation because they liked the "sound of it." While also describing the structural context in which short titles are used and providing some political and psychological evidence that naming could be of significance to public law favorability, I ultimately advocate deliberative caution when drafting the short titles of bills and acts in order to ensure accuracy.
Keywords
bills,
acts,
short titles,
favorability,
Congress,
Westminster,
Scottish Parliament,
legislation,
public law,
manipulation
Publication Date
Fall 2013
Citation Information
Brian Christopher Jones. "MANIPULATING PUBLIC LAW FAVORABILITY: IS IT REALLY THIS EASY?"
British Journal of American Legal Studies
Vol. 2 Iss. 2 (2013)
Available at: http://works.bepress.com/brian_jones/12/