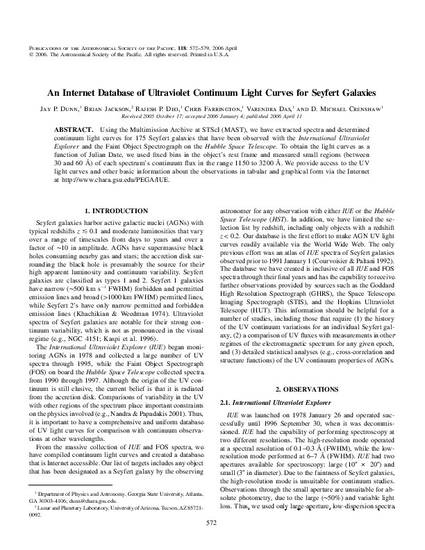 Article
An Internet Database of Ultraviolet Continuum Light Curves for Seyfert Galaxies
Publications of the Astronomical Society of the Pacific (2006)
Abstract
Using the Multimission Archive at STScI (MAST), we have extracted spectra and determined continuum light curves for 175 Seyfert galaxies that have been observed with the International Ultraviolet Explorer and the Faint Object Spectrograph on the Hubble Space Telescope. To obtain the light curves as a function of Julian Date, we used fixed bins in the object's rest frame and measured small regions (between 30 and 60 Å) of each spectrum's continuum flux in the range 1150 to 3200 Å. We provide access to the UV light curves and other basic information about the observations in tabular and graphical form via the Internet at http://www.chara.gsu.edu/PEGA/IUE.
Publication Date
April, 2006
Citation Information
Jay P. Dunn, Brian Jackson, Rajesh P. Deo, Chris Farrington, et al.. "An Internet Database of Ultraviolet Continuum Light Curves for Seyfert Galaxies"
Publications of the Astronomical Society of the Pacific
Vol. 118 (2006)
Available at: http://works.bepress.com/brian_jackson/6/