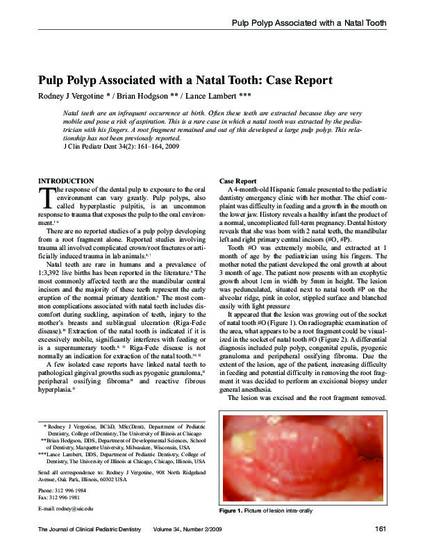 Article
Pulp Polyp Associated with a Natal Tooth: Case Report
Journal of Clinical Pediatric Dentistry
Publication Date
12-1-2009
Publisher
Journal of Pedodontics
Original Item ID
doi: 10.17796/jcpd.34.2.96656211337v7517
Abstract
Natal teeth are an infrequent occurrence at birth. Often these teeth are extracted because they are very mobile and pose a risk of aspiration. This is a rare case in which a natal tooth was extracted by the pediatrician with his fingers. A root fragment remained and out of this developed a large pulp polyp. This relationship has not been previously reported.
Citation Information
Brian D. Hodgson, Rodney Vergotine and Lance Lambert. "Pulp Polyp Associated with a Natal Tooth: Case Report"
Journal of Clinical Pediatric Dentistry
(2009) ISSN: 1557-5268
Available at: http://works.bepress.com/brian_hodgson/13/