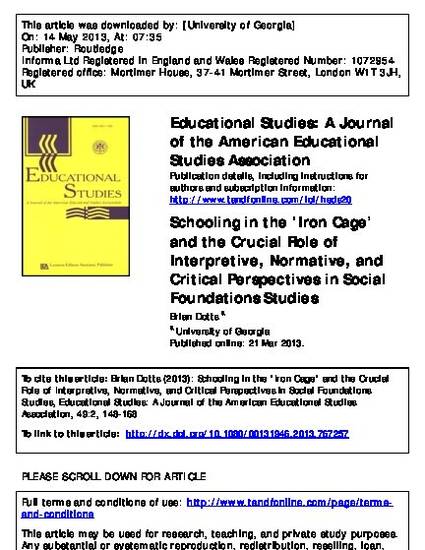 Article
Schooling in the 'Iron Cage' and the Crucial Role of Interpretive, Normative, and Critical Perspectives in Social Foundations Studies
Educational Studies: A Journal of the American Educational Studies Association (2013)
Abstract
This article addresses the unique role performed by social foundations programs in colleges of education and in addressing broader issues facing education today, which fundamentally include the development of interpretive, normative, and critical perspectives in academia. All three perspectives serve to create a scholarly framework within which students and academicians interpret and normatively reflect upon existing educational, political, historical, religious, economic, and social institutions critically. In other words, although many departments in colleges of education tend to fulfill the functional, professional, and institutional requirements essential in preparing future teachers to enter public and private schools, social foundations programs utilize interdisciplinary expertise, primarily from the social sciences and humanities, to explicate extrainstitutional critiques, interpretations, and normative analyses of existing social structures, including schools. Although social foundations programs perform a variety of academic functions, it is this unique reflexive and normatively critical capacity—what critical theorists refer to as ideology critique—that augments social foundations programs and informs present and future scholars in the field.
Citation Information
Dotts, Brian W. (2013). Schooling in the 'Iron Cage' and the Crucial Role of Interpretive, Normative, and Critical Perspectives in Social Foundations Studies. Educational Studies: A Journal of the American Educational Studies Association 49 no. 2, 148-168.