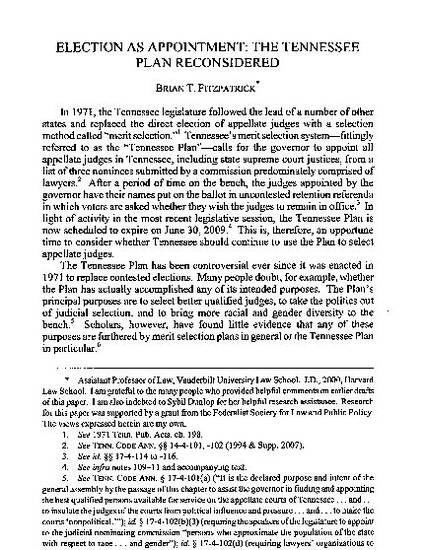 Article
Election as Appointment: The Tennessee Plan Reconsidered
Tennessee Law Review
Publication Date
1-1-2008
Keywords
merit selection,
Tennessee Plan,
judges-selection and appointment,
constitutional law
Abstract
Tennessee's merit system for selecting judges - referred to as the Tennessee Plan - has been controversial ever since it was enacted in 1971 to replace contested elections. The greatest controversy has been whether the Plan is even constitutional. The Tennessee constitution states that all judges "shall be elected by the qualified voters" of the state. Yet, under the Tennessee Plan, the governor appoints all appellate judges, and those judges come before the voters only after a period of time on the bench and only in uncontested yes-no retention referenda. In 1977, the people of Tennessee were asked to amend the constitution to replace the provision requiring elections with provisions setting forth the Tennessee Plan, but they rejected the constitutional amendment.
In this Essay, I examine the constitutional questions surrounding the Tennessee Plan. Although the Tennessee Supreme Court has upheld the constitutionality of the Plan on two occasions, neither decision addressed three serious questions raised by the Plan. In my view, none of these questions is easily answered, and, together, they comprise a compelling case for the view that many appellate judges in Tennessee have been selected in an unconstitutional manner for the better part of four decades. In light of these constitutional questions, I argue that the Tennessee legislature should allow the Plan to expire when it is scheduled to sunset in June of 2009. The legislature should return to contested elections to select all judges in the state until the people of Tennessee have been given another opportunity to amend the Tennessee constitution.
Citation Information
Brian T. Fitzpatrick. "Election as Appointment: The Tennessee Plan Reconsidered"
Tennessee Law Review
Vol. 75 (2008) p. 473
Available at: http://works.bepress.com/brian-t-fitzpatrick/6/