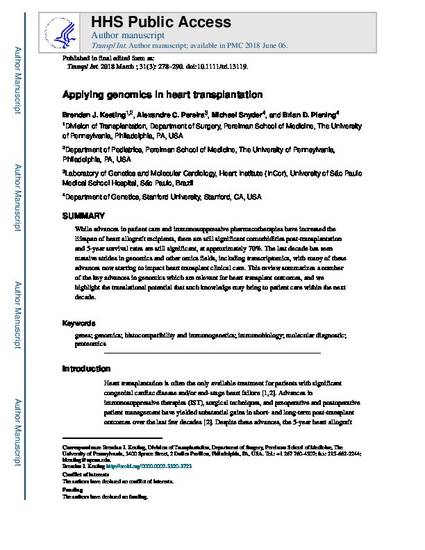 Article
Applying genomics in heart transplantation.
Transplant international : official journal of the European Society for Organ Transplantation
Publication Date
3-1-2018
Keywords
Biomarkers,
Genome-Wide Association Study,
Genomics,
Heart Transplantation,
Humans,
Postoperative Complications,
genes,
genomics,
histocompatibility and immunogenetics,
immunobiology,
molecular diagnostic,
proteomics
Abstract
While advances in patient care and immunosuppressive pharmacotherapies have increased the lifespan of heart allograft recipients, there are still significant comorbidities post-transplantation and 5-year survival rates are still significant, at approximately 70%. The last decade has seen massive strides in genomics and other omics fields, including transcriptomics, with many of these advances now starting to impact heart transplant clinical care. This review summarizes a number of the key advances in genomics which are relevant for heart transplant outcomes, and we highlight the translational potential that such knowledge may bring to patient care within the next decade.
Clinical Institute
Cancer
Clinical Institute
Cardiovascular (Heart)
Citation Information
Brendan J Keating, Alexandre C Pereira, Michael Snyder and Brian D. Piening. "Applying genomics in heart transplantation."
Transplant international : official journal of the European Society for Organ Transplantation
(2018)
Available at: http://works.bepress.com/brian-piening/48/