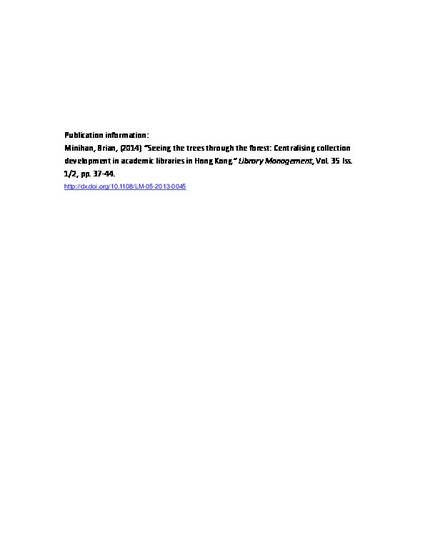 Article
Seeing the trees through the forest: Centralising collection management at academic libraries in Hong Kong
Library Management
Document Type
Journal Article
Abstract
Purpose
– Collaborative efforts in academic library collection management and development are frequent topics in library literature. This paper aims to analyse the nature of collaborative projects among Hong Kong academic libraries, with a view to whether further synchronisation of collection management is likely or not. Design/methodology/approach
– By comparing collaboration, as defined in the academic library literature from the 1970s to the present, to the status of current collaboration in academic libraries in Hong Kong, the local outlook for collaborative collection decisions among an eight-member library consortium was analysed. The ramification of local weeding projects and collection management decisions without a joint storage facility and its associated communication benefits regarding collection management decisions are detailed. Findings
– Hong Kong academic libraries will all need to communicate clearly to one another and agree on local strategies before they can expect to build up to see any benefits from collaboration in collection management and development. Originality/value
– Although many of the themes have been touched upon before, in an Asian context it is useful to emphasize that success in collaboration is not dependent on budgets and resources alone.
Keywords
Hong Kong,
Academic libraries,
Collection management,
Weeding,
Consortia
Publication Date
1-1-2014
Publisher
Emerald Group Publishing Limited
DOI
10.1108/LM-04-2013-0032
Link to Publisher's Edition
http://www.emeraldinsight.com/doi/full/10.1108/LM-04-2013-0032
Citation Information
Brian Minihan. "Seeing the trees through the forest: Centralising collection management at academic libraries in Hong Kong"
Library Management
Vol. 35 Iss. 1/2 (2014) p. 37 - 44 ISSN: 01435124
Available at: http://works.bepress.com/brian-minihan/1/