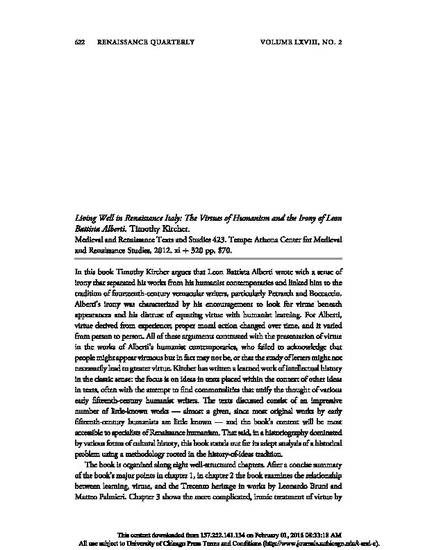 Article
Review of Living Well in Renaissance Italy: The Virtues of Humanism and the Irony of Leon Battista Alberti, by Timothy Kircher.
Renaissance Quarterly (2015)
Abstract
Leon Battista Alberti wrote with a sense of irony that separated his works from his humanist contemporaries and linked him to the tradition of fourteenth-century vernacular writers, particularly Petrarch and Boccaccio. His irony was characterized by his encouragement to look for virtue beneath appearances and his distrust of equating virtue with humanist learning.
Publication Date
Summer 2015
Citation Information
Brian Jeffrey Maxson, review of
Living Well in Renaissance Italy: The Virtues of Humanism and the Irony of Leon Battista Alberti
, by Timothy Kircher,
Renaissance Quarterly
68, no. 2 (Summer 2015) 622-623. http://dx.doi.org/10.1086/682445