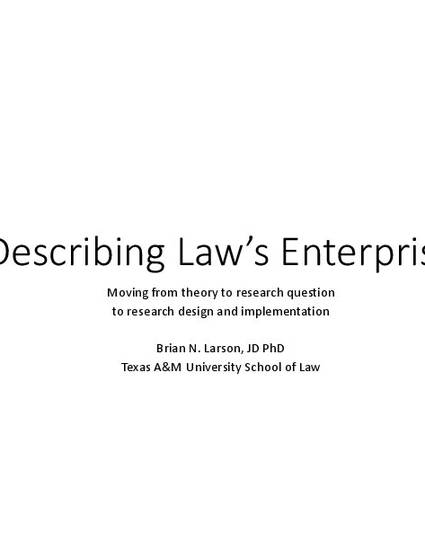 Presentation
Weird Science: The Empircial Study of Legal Writing/Describing Law's Enterprise: Moving from theory to research question to research design and implementation
Biennial Conference of the Legal Writing Institute, Marquette University School of Law (2018)
Abstract
This presentation describes an empirical study that asks whether lawyers and judges use legal analogy on a day-to-day basis in a manner that reflects normative standards of reasonableness and rationality. From a theoretical perspective legal philosophers deny, transform, or mystify legal analogy, but lawyers and judges use it every day without comment. The question is important because we expect lawyers and judges use legal analogy thousands of times per day and law schools teach it as a basic skill. The argumentation schemes of informal logic supply a theoretical framework in the form of an argumentation scheme, but we do not know how the lawyers' and judges' practices correspond to the theory.
This presentation discusses the process of selecting a research question and developing some of the methods for data collection and coding.
Keywords
research methods,
legal analogy
Publication Date
Summer July 14, 2018
Citation Information
Brian Larson. "Weird Science: The Empircial Study of Legal Writing/Describing Law's Enterprise: Moving from theory to research question to research design and implementation"
Biennial Conference of the Legal Writing Institute, Marquette University School of Law
(2018)
Available at: http://works.bepress.com/brian-larson/44/